Praying hands
ref A076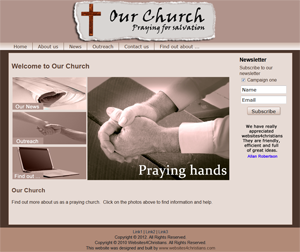 Praying hands was inspired by our relationship with God. Praying is a great comfort to many and enables us to speak with God. The design is relatively plain but it still uses contrasting shades of chocolate to give a warmth and feel good look. The subtle shades help to ensure that the site has a calming feel.
The opening page has four graphics. These images when clicked link to other parts of the site. They can easily be replaces with other images or if you'd like a more dynamic approach they could be replaced by moving images. In additon the newsletter sign up and testimonial adverts could be removed or replaced.
If Praying hands fits with your church site then this design might be the right starting point for you. Why not click on the picture or here to go to the site.