Harvest
ref A034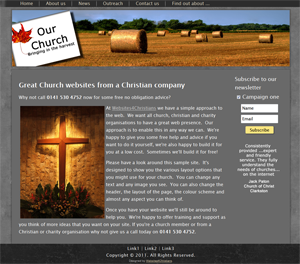 Harvest describe all the things about a Christian in one word. It evokes the idea of Christ bringing in the harvest of people and saving them for eternity. Our Harvest design aims to follow this with a blend of country feel in graphics with th emetalic grey that gives a contempary feel to the overall design.
Like all our sites the header and all graphics can be changed to suit. For example the Our Church logo in the header bar can feature your church or christian organisation name and logo.
If Harvest is something that fits with your church site then this design might be the right starting point for you. Why not click on the picture or here to go to the site. It's fully functional and it'll allow you to quickly get a feel for how it works.