Pre built sites
All are pre built sites work across mobile devices (phones, tablets, iPad) as well as desktop computers - at no extra cost.  We charge just £30 per month for this service which you can cancel at any time.  This includes up to 1 hour of updates per month at no additional cost.  You simply send us the content and we'll do the rest.
Creating your website using our pre built site system is straightforward.
Just follow the steps outlined below:
Call us on 0141 530 4752
List the main pages you want and decide how they should link together
Pick a home page design
Pick index pages 
Gather together the assets - images, text, audio, video etc
Send it all to us and we'll build the site for you
Don't worry if things aren't exactly how you want them because we allow up to 2 hours of our design and development time to adjust things so you can get a site that looks the way you want!  
Step 1: List the main pages
Your website consists of a number of pages.  They are generally split into three types:
Index pages
Content pages
Feature pages
The index pages point your visitors towards the content pages.  For example you might have an index page which lists events that you're running.  It might display five events.  Each event might have an image and some text.  The visitor then clicks on the image/text and is taken to the detailed content page: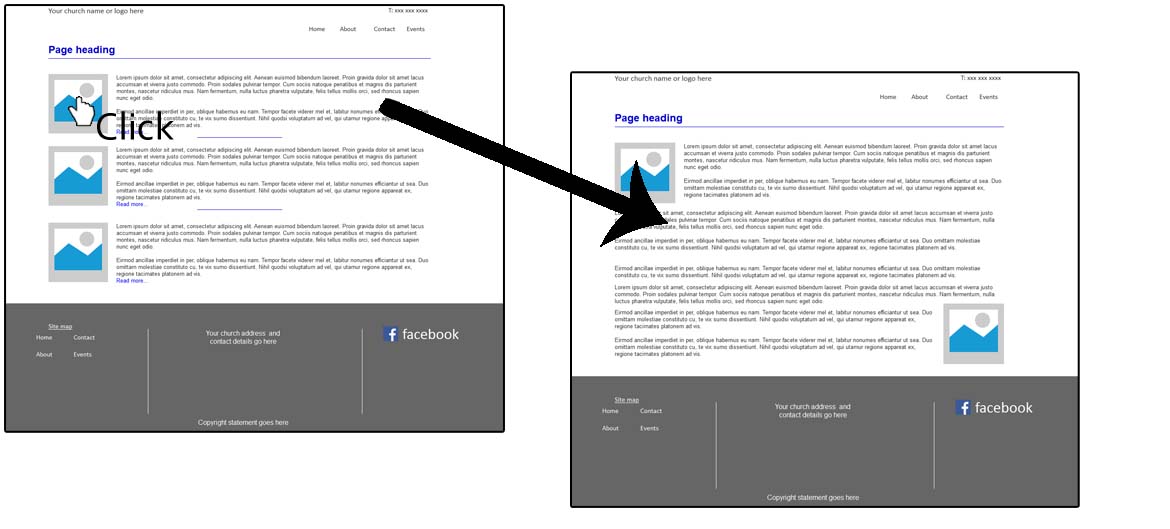 Feature pages are pages for sermons, photo galleries, Google maps, contact or other forms, and any other specialist page types.
Simply list all the pages you'd like.  You don't need to worry about getting every page.  When you're ready to add more we'll do that for you.  Just get the main pages you want to get your website up and going.  As a minimum this is normally:
Home
About us
Contact
There are obviously a lot more pages you can add.  To help you we've pulled together a few of the common ones.:
Home
About us - What we believe, Constitution, Meet the team, Our History, Meet our members, etc
Blog
Groups - Home Groups, Prayer Group, Pastoral care, Youth group, Men's group, Woman's group, etc
Events - Bonfire night, Christmas service, Easter, Summer club, Harvest festival, Film event, Pizza and chat, Alpha course, Nativity play, etc
Information - Service times, a typical Sunday, Becoming a member, Getting married here, Getting baptised/Christened etc, Funerals, Church hall booking etc
Contact
Members - rotas, Church directory, Current church papers, photo gallery, sermons, etc
Step 2: Pick a home page design
A home page is really just a specialised index page.  It allows you to highlight areas of the website that are important for people to visit.  
We have a variety of home page designs that you can choose from.  The designs can be downloaded here: template page designs.
All our designs are generic.  We don't show images or colour schemes.  Instead you pick a layout and then we'll add colour based on your logo or church colour scheme.  If you see something on one page that you'd like on another page then please ask us.
Step 3 : Pick index pages
We offer a variety of index page styles.  You are welcome to pick different pages for different parts of the site.  However we generally recommend that you pick a style and stick with it - If you have too many styles it can get confusing for your visitors!
Our current designs can be downloaded here: index page designs. As with the home page our designs are generic to make it easier to chose.  
Step 4: Gather together assets
This is often the longest stage in website building.  You need to get people to write parts of the site and pull together pictures.  Whilst this is happening you can start the next stage.  We don't need the assets to pull together the websites since we can put in place holder images and text.  
If you need help sourcing suitable images please let us know.
Step 5: Send it all to us
This step is the building of the website.  In practise you will have been talking to us from step 1 and we'll help you through each step.  This step is really the culmination of all the steps and it'll result in a great website.